How can RPET products help our environment?
Views : 3058
Author : Davina Fang
Update time : 2021-04-15 16:25:58
 What is RPET?
The full name of RPET is recycled polyethylene terephthalate, which is a re-product of recycled PET products. And what is PET?
PET plastic is one of the four most common plastics in the world, refined from crude oil. PET is thermoplastic, so it can be easily re-shape and quickly become what you want. Because of its durability, lightness, non-toxic and high transparency, PET is widely used in various fields. It is most often used in food and beverage packaging, and it is also one of the important materials for clothing fibers.
However, the durability of the features becomes one of the important factors for environmental hazards.
  The process of extracting it from crude oil may cause a certain degree of harmful pollution to the earth's environment. And durable PET, after we use it, it may take hundreds of years to be decomposed and returned to nature.

  Fortunately, PET is a 100% completely recyclable material. In addition, nearly 30% of PET worldwide is used in drinking water packaging. We can easily identify and recycle them from the triangular chasing arrows label on the bottom of the water bottle.
  RPET products also inherit the characteristics of PET products, which are light, thin, durable, highly transparent, and can be recycled again. Because there has no the process of refining from crude oil, the carbon footprint and the possibility of other pollution can be decreased in the process of producing RPET products.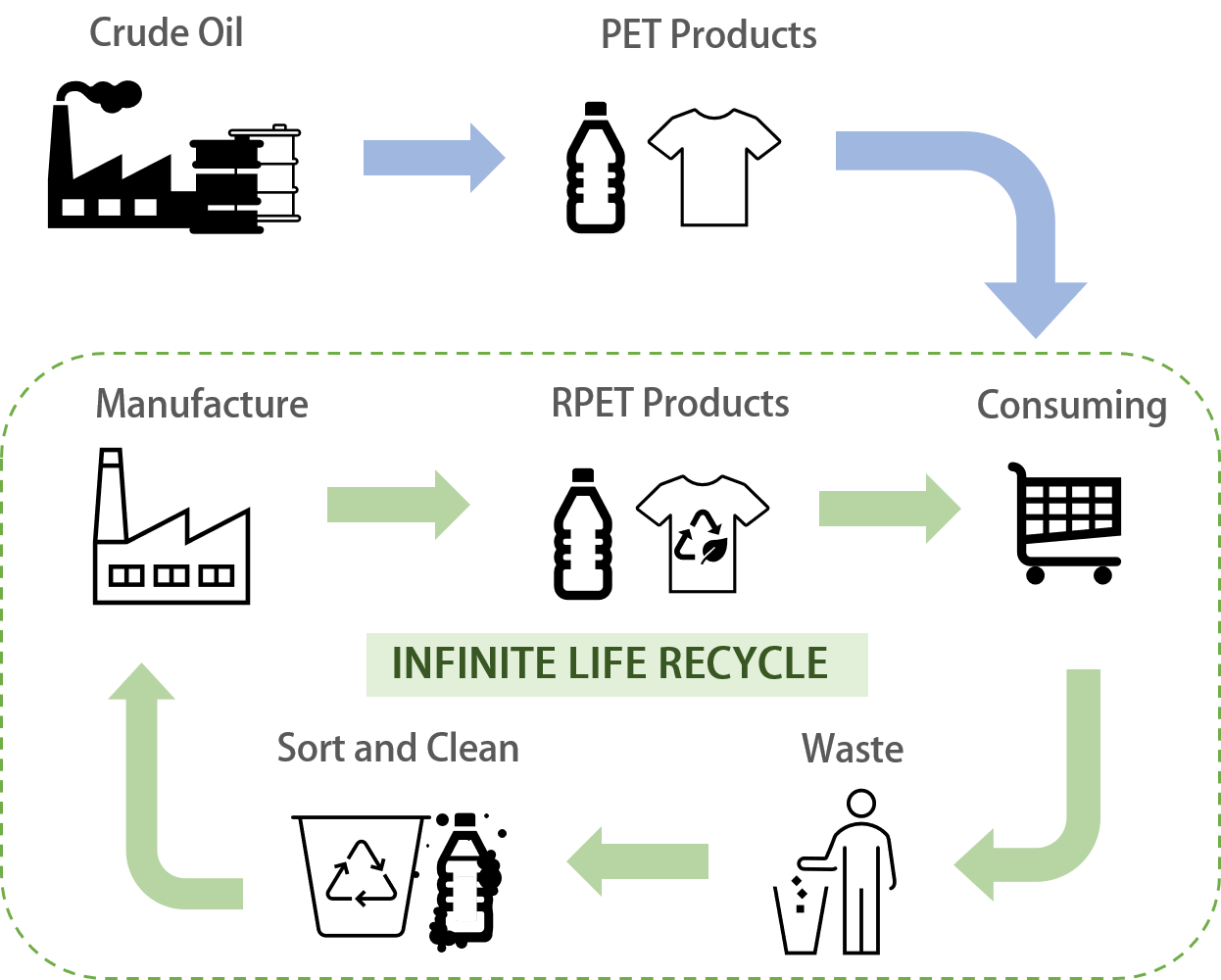 Even if the whole human beings are actively looking for alternatives to instead of the plastics, it is still difficult for us to completely replace the use of plastics in a short period of time due to our long-formed living habits, and the low price and convenience of plastic products. Furthermore, the speed of decomposition and recycling of the plastics is far less than we use and waste it.
Therefore, the positive behavior that the general publics can do is to do a good job in the recycling and classification of various resources, so that the resources can be reused fully, and use the products that made from these recycling resources.